Classification of objects
Functionality to distinguish the type of the object located in the designated area or the object that crossed the virtual line.
Clarity
Frames colours vary depending on the type of object.
Detection sensitivity
Any defined minimum distance of the object from the designed line or zone that will trigger an alarm.
The original function of video surveillance systems, that is the observation and recording of images from cameras, is systematically upgraded with newer, more advanced algorithms for image content analysis. As a result, cameras installed in any given area can play a double role, i.e. surveillance and analytical functions. The innovative INGENIUS PLUS image analysis technology used in Novus cameras uses – among others, an algorithm that distinguishes objects in the field of view of the camera, enabling the recognition of a person, a vehicle, as well as a bicycle or motorcycle.
Six independent counters give the number of objects that have been classified, counted and which direction has been determined. The categories displayed by the camera counters can be set freely. The counters can be reset automatically after a designated time – an hour, a day or a week, or manually via the camera's web interface.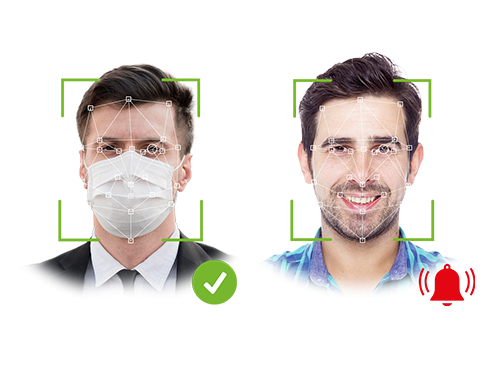 No mask detection function
Image analysis based Deep Learning in combination with face detection function, enables the detection and alerting about people who do not have their mouth and nose covered, so-called no mask detection function.
The function allows to trigger a local alarm, send an e-mail, activate the relay, send event to NMS or generate a push notification to the mobile application after detecting face without mask in defined detecting zone.
Objects counting
Function that allows counting objects with recognized shapes (i.e. human, car, two-wheeled vehicle) that have crossed the virtual line. The results from individual cameras can be displayed in real time, as well as collected and visualized in the central software.
MONITORING UP TO 32 OBJECT
Efficiency of the devices and analysis methods used allows for the simultaneous monitoring of up to 32 objects of various types (if a larger number of objects appear in the image, human silhouettes will be recognized first, then cars, and finally single-track vehicles).
Resistance to atmospheric conditions
High efficiency of work in difficult atmospheric conditions, including rain and snowfall, as well as in the event of unfavourable lighting of the scene at dusk or dawn. The algorithm eliminates false alarms by rejecting all shadows, flares, tree movement etc.
Triggering an alarm reaction
The possibility to create various alarm scenarios, i.e.:
pedestrian enters/exits via an entrance reserved for cars only,
traffic in a prohibited direction,
people in the work area of large-size machines.
Other examples of locations where human silhouette detection may be helpful include: railroad crossings; entrances to and exits from underground car parks; places where pedestrians are not allowed to cross the road.